Adding dynamic Bing Maps to a blog post
Apr 29
by Gregory Alexander ColdFusion Blog, Galaxie Blog, Bing Maps
Embedding interactive maps and image galleries into your blog posts is a perfect way to show off your road trip!
To embed Bing Maps into a blog post, open the Post Editor. You can attach a map as either the enclosure image (the hero image on top of the page) and/or inline within a blog post.
There are two types of maps that you can embed
A Map Route showing the route between two or more locations
A static map
To embed a map, click on one of the last two icons in the post editor.
Use the globe icon to embed a static map
The arrow icon will embed a map route
Embedding Static Maps
Open the post or enclosure editor and click on the globe icon to the right of the editor. Alternatively, click on the Insert menu and select Map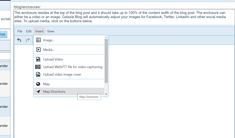 Type in your desired location in the Location text box.
The map autosuggest should populate as soon as it finds results
Click on the auto-suggested value that you want and a map preview will appear.

If you want an optional custom map cursor, click on the Pin Url field to open up the Pin Url editor. See Uploading Images for more information.
You can also optionally outline your location if it is a city or a place. Click on the Outline Map checkbox to do so.

Once you are satisfied with your map, click on the Submit button to continue.
Embedding Map Routes
Click on the arrow icon in the Post or Enclosure Editor or click on Insert - Map Directions
Enter your starting location
Enter the final destination, or click the Add Destination link to add more points to the route. A map route can have up to fifteen (15) different destinations.
Once done, click on the OK button at the top left-hand corner of the page.
That's it, an interactive map will be present in your blog post!
Note: maps are not supported by Facebook or Twitter social media sharing. If you want to share these maps to either platform, you should take a snapshot of your map, upload these snapshot images to the server and use the following Galaxie Blog Directives with the proper links to the image:
<twitterImageUrlMetaData>YourImageUrl</twitterImageUrlMetaData>
<facebookImageUrlMetaData>YourImageUrl</facebookImageUrlMetaData>
I will develop a new interface in the future to upload custom Facebook and Twitter social media images.
Related Entries
This entry was posted on April 29, 2022 at 10:49 PM and has received 604 views.