Apr 29
by Gregory Alexander ColdFusion Blog, Galaxie Blog, Bing Maps
Embedding interactive maps and image galleries into your blog posts is a perfect way to show off your road trip!
To embed Bing Maps into a blog post, open the Post Editor. You can attach a map as either the enclosure image (the hero image on top of the page) and/or inline within a blog post.
There are two types of maps that you can embed
A Map Route showing the route between two or more locations
A static map
To embed a map, click on one of the last two icons in the post editor.
Use the globe icon to embed a static map
The arrow icon will embed a map route
Embedding Static Maps
Open the post or enclosure editor and click on the globe icon to the right of the editor. Alternatively, click on the Insert menu and select Map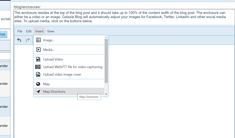 Type in your desired location in the Location text box.
The map autosuggest should populate as soon as it finds results
Click on the auto-suggested value that you want and a map preview will appear.

If you want an optional custom map cursor, click on the Pin Url field to open up the Pin Url editor. See Uploading Images for more information.
You can also optionally outline your location if it is a city or a place. Click on the Outline Map checkbox to do so.

Once you are satisfied with your map, click on the Submit button to continue.
Embedding Map Routes
Click on the arrow icon in the Post or Enclosure Editor or click on Insert - Map Directions
Enter your starting location
Enter the final destination, or click the Add Destination link to add more points to the route. A map route can have up to fifteen (15) different destinations.
Once done, click on the OK button at the top left-hand corner of the page.
That's it, an interactive map will be present in your blog post!
Note: maps are not supported by Facebook or Twitter social media sharing. If you want to share these maps to either platform, you should take a snapshot of your map, upload these snapshot images to the server and use the following Galaxie Blog Directives with the proper links to the image:
<twitterImageUrlMetaData>YourImageUrl</twitterImageUrlMetaData>
<facebookImageUrlMetaData>YourImageUrl</facebookImageUrlMetaData>
I will develop a new interface in the future to upload custom Facebook and Twitter social media images.
Related Entries
This entry was posted on April 29, 2022 at 10:49 PM and has received 339 views.
Apr 16
by Gregory Alexander Road trip, Alternate Scenic Routes, ColdFusion Blog, Galaxie Blog, Bing Maps
Pictures along the route
Drive Through Video
Utah 12 Scenic Byway is one of the most beautiful drives in the world.
Instead of driving in a boring high desert in central Utah on I15, journey through time on one of the most beautiful roads in the world! This road was considered the 2nd most beautiful road in the world by Fox News in 2013. This route will take you to 3 National Parks, a National Monument, with two other National Parks close by. It is an amazing route that you will never forget and I am sure that you will be compelled to come back and visit again.
If you are coming from the north, you will start your journey in Torrey Utah. Torrey is a small town that offers multiple choices for accommodations, however, it's a popular spot and if you stay in Torrey you may want to book your stay early.
You will first want to visit Capitol Reef National Park which is about 10 miles away from Torrey. In the Park, take a right at the visitor center and drive through the park for another ten miles. There are some beautiful sights to visit along the way, once you're done, drive back to Torrey and once you're back in town, take a left on Scenic Byway 12.
Highway 12 will quickly climb in elevation and you will start driving into the Dixie National Forest. Here you can pull over at the Larb Hollow overlook which is a fantastic place to take a few pictures. Further south you will climb Boulder Mountain which is the highest forested mountain in the US. Here, you will drop elevation and enter the hogback where the road is on a high ridge that precipitously drops on either side.
The next destination is Lower Calf Creek Falls. This is a relatively flat three-mile hike in a deep canyon that leads to a stunning waterfall. If you have the time it is well worth your time- be sure to bring sunscreen though as there is little shade in places and it can get hot.
There are several attractions in the Escalante area. One of the most scenic options is taking the hole in the rock road that leads to several arches and will eventually end up overlooking Lake Powell. Other attractions are the Escalante River trail and Escalante Petrified Forest State Park.
On your way to Bryce National Park, there is a lovely hike along the Mossy Cave trail. This trail goes through a very scenic canyon and ends with a little waterfall. From here continue driving several miles to Bryce National Park.
This whole trip is around 125 miles and it can be done in as little as 3-4 hours. However, this is a remarkable drive, and if possible, you will want to take your time.
Happy travels!
---
Note: the map, galleries, and YouTube video on this page were generated using the WYSIWYG Galaxie Blog post editor. The media on this page are not mine.
This entry was posted on April 16, 2022 at 12:30 AM and has received 201 views.
Apr 29
by Gregory Alexander Bing Maps, ColdFusion Blog, Galaxie Blog
Bing Maps is already built into Galaxie Blog, however, you need to enter your free Bing Maps API Key.
To get a Bing Maps API Key, go to https://docs.microsoft.com/en-us/bingmaps/getting-started/bing-maps-dev-center-help/getting-a-bing-maps-key and follow the directions. Unless you plan on having unusually busy traffic, you should not have to pay for an enterprise plan. Once your done obtaining your personal blog's API Key:
log into the Galaxie Blog Administrator
Click on blog options
Click on the Bing Maps Library Ribbon
and enter your Bing Maps API key.
That's it, you should now be able to use Bing Maps as your Blog Enclosure and embed maps into your blog post!
Related Entries
This entry was posted on April 29, 2022 at 3:05 PM and has received 342 views.